Kristen Stewart Red Carpet Makeup The Twilight Saga Breaking Dawn Part 2 Premiere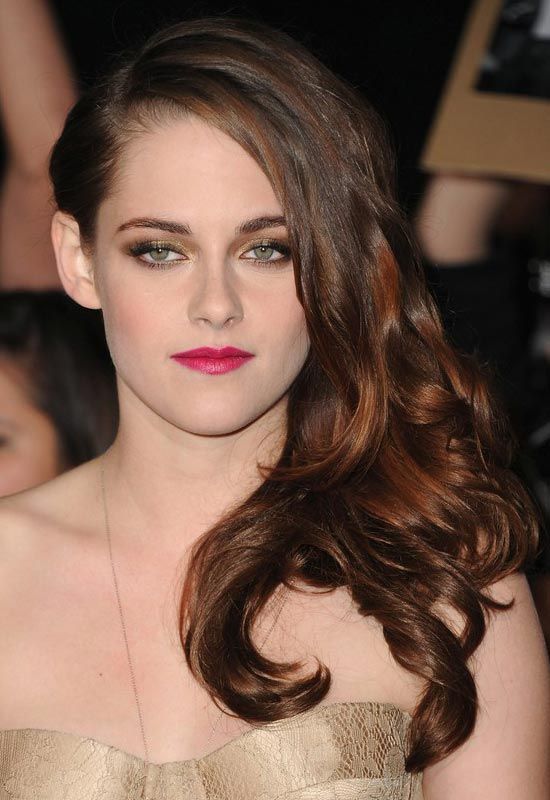 Red Carpet Makeup: Kristen Stewart
Kristen Stewart rocked the red carpet with her makeup & dress during the The Twilight Saga Breaking Dawn Part 2 Premiere. Not only was her makeup in trend with the recent fall makeup trend for 2012 but her daring nude dress was amazing! Kristen Stewart rocked those very bold raspberry lips with soft eyes and a very nude golden fresh and glamourous completions. Her eyelids are covered in shimmery brown-golden tones with a black eyeliner and a dark brown outer V. Lower eyelids have golden inner corners until have the eyelid and a darker outer corner, same as upperlids. Her face has mild contouring to get that golden summery bronzed look. Based on the picture, I would say that she was sporting wispie fake lashes to get a more glamorous look and more awake eyes. Kristen Stewart's makeup look was completed with the very trendy thick eyebrows and a very light coat of a rosy blush to get a natural flushes appearance.
Kristen Stewart  Red Carpet Makeup: The Twilight Saga Breaking Dawn Part 2 Premiere
If you like this look then check out my Fall Makeup Tutorial for 2012. My look was very similar to this look.
Makeup Products which I recommend to get this look:
EYES
NYX: Nude on Nude Palette
EYELINER
E.L.F Cosmetics cream eyeliner: Black
EYEBROWS 
CONTOUR
E.L.F. Cosmetics Blush & Bronzer Compact
Too Faced Cosmetics: Chocolate Soleil Bronzer (review)
BLUSH
E.L.F. Cosmetics Blush: Tickled Pink
NYX Cosmetics Cream blush: Boho Chic or Natural
Barry M Blush: Rose
LIPS
NYX Round Lipstick: Gardenia or Spell Bound or Shiva
Barry M Lipstick: Royal Raspberry
LASHES:
Ardell Fake Lashes: 110 DEMI BLACK
Rimmel Glam Eyes Mascara
FOUNDATION: 
Illamasqua Skin Base
MUFE HD Foundation
L'oreal True Match
Maybelline FIT Me Foundation