DIY: How to color (dye) hair from a box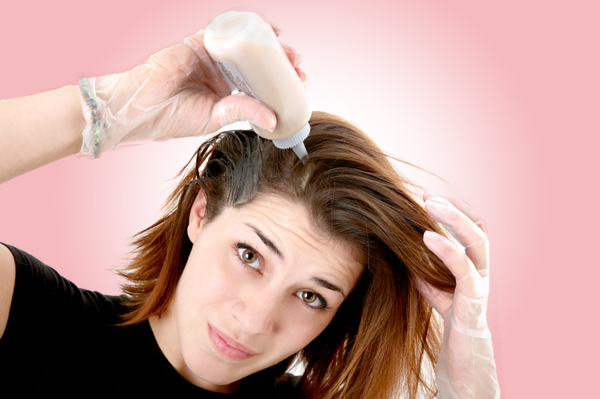 Hi everyone, 


    It's been over 2 years since I decided that I can color / dye my  own hair at home like in a salon. The reason is that I seriously needed to cut back on my spendings. I have been hunting down hair colors to find that perfect shade of brown that has that golden hint of chocolate color. 


Basically I think I found it. I bought my in a local drug store. The brand and color are L'oreal Casting creme gloss in chocolate chip cookie. When I saw the color on the box, both my friend and I were like "WOW!" but as usual we were afraid that the color would come out darker on out already dark hair. I told her "to hell with it" and got two boxes and said here I go again. 


I will write a review about the Shade Chocolate Chip Cookie later on. Now, to what I wanted to write about. I decided to make a quick video on how I dye my hair. 


I welcome any additional tips or advice when dying hair (since I am not a hairdresser or stylist). Please leave your comments in the comment section below. 




     Ukratko, već dvije godine bojim kosu doma i ne idem u salon osim da me frizerka ošiša her do sada mi je samo jedna frizerka našla onu boju koju ja želim i moram štediti novce pa sam rekla idem čitati i naći idealnu boju za kosu. 


Tako da već dvije godine isprobavam sve marke i slične "čokoladne boje". Danas, u ovom video uratku ću Vam pokazati kako obojati kosu sa L'oreal  Casting creme gloss u boji chocolate chip cookie (u Mulleru). Za par dana ću napraviti recenziju za ovaj proizvod. 


Napominjem da video je moj osobni savjet kako ja bojim kosu kod kuće. Ako bih voljeli posjedili koji savjet, slobodno ostavite komentar ispod u komentarima. 




Before the video, here are a few general additional tips.
Before you color your hair make sure you test the dye 48 hours before your put it on your hair, so you don't get an allergic reaction to it.

Make sure you read ALL of the instructions on the back of the box. 

Color dye that has no ammonia is much much better for your hair that dye that contains ammonia. 
Prije Video uratka, evo par osnovnih savjeta:  
Prije nego što obojite kosu, obavezno testirajte boju na kožu da vidite da li ste alergični na njega. 

Obavezno proičajte sve upute na papiru, ako ih nema na Vašem jeziku radije nemojte korisiti tu farbu. 

Boje za kosu koji nema amonijak su zdraviji za Vašu kosu.
Fair Skin
Avoid deep browns (and certainly black); pale skin is prone to ruddiness and dark hair will create a bull's-eye around red areas.
Try a light auburn or rich honey blonde. Don't start overhighlighting, though; hair that's too blonde will wash you out.
Svjetla Koža
Izbjegavajte jako tamne smeđe boje i crne boje. Bljeda koža često imam dosta primjetnu rozu pigmentaciju ili čak crvenilo po koži. Tamna kosa takve stvar naglašava.
Probajte bogatu medenu plavu ili kesteno smeđu. Nemojte previše posvjetlivati kosu jer ako Vam je kosa presvjetla onda ćete izgledati bolesno bljedo.
Try a deep mahogany base that will warm up your skin tone.  Consider a few golden highlights for extra brightness.
Srednja/Maslinasta boja kože
Izbjegavajte crvenu i bilo koje boju bakra, jer Vam koža može izgledati žućkasto ili naranđasto.
Probajte duboku mahagonisku baznu boju boje jer će dati dojam topline Vašoj koži. Uzmite u obzir par svjetlijih pramenova da Vam dodatno osvježi lice.
Dark Skin 
Avoid going more than a couple of shades lighter than your natural color; the results could look brassy and make your skin tone seem flat. Try weaving caramel or cinnamon highlights around your face and through the ends, where the sun would hit.
Tamna koža 
Izbjegavajte
 boje koje su par nijansi svjetliji nego vaša prirodna boja kose, jer će izgledat dramatično i Vaše kože će djelovati umorna i bez sjajna.
Probajte pramenove boje karamele ili cimete na prednjim dijelovima kose (blizu lica) i na vrhove.
White hair, as long as it's shiny, will look stunning with any skin tone. Use a violet-tinged shampoo once a week, avoid styling products with alcohol, and smooth a silicone serum over dry hair for extra sheen.
Sijeda kosa 
Sijeda kosa, ako još uvijek imam prirodnog sjaja, će izgledati preljepo na sve tipove kože. Koristite ljubičasto obojani šampon jednom tjedno, izbjegavajte proizvode za stiliziranje kose koje sadrže alkohol i koristite serume za kosu da dobijete dodatni sjaj.