MOVIE REVIEW – THE POOL BOYS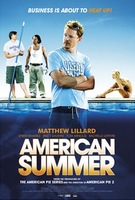 OMG
this was one of the worst movies that I have ever seen.
It's a male fantasy about being a Pimp.
The story started good until I figured out the plot.
The acting was ok to a point, some scenes were funny as hell but again the whole plot was so HORRIFIC that I felt embarrassed watching the movie.
Even though the movie is good entertainment, it doesn't really bring about many laughs.
TITLE:
MPAA:

Rated R for sexual content, nudity, language and drug use.
PLOT:

A funny, colorful, and surprisingly smart comedy, "Pool Boys" tells the story of Alex Sperling, Harvard-bound valedictorian, who loses his summer internship and heads to Los Angeles to work for his ch…( read more
)
arming and successful cousin Roger. Unfortunately, Roger isn't quite the accomplished businessman he's made himself out to be– he actually dropped out of Harvard, and now works as a pool boy. A series of mishaps force Alex and Roger to squat in the stunning mansion of one of Roger's clients, where they join forces with Laura, a local escort, to start an escort business. The company grows like wildfire as Alex and Roger get caught in more and more hilarious situations, from shotgun-wielding celebrities to bar mitzvahs to sadistic lesbian businesswomen, finally culminating in one giant party… but when Alex's parents and their Harvard-alum friends show up, they have to turn the bash into a Harvard event in order to save both the business and Alex's
RATING:
1/10 stars
Genres:

Comedy

Release Date:

August 14th, 2009 (limited)

Distributors:

Seven Arts Pictures
Cast
Efren Ramirez as Hector
Matthew Lillard as Roger
Brett Davern as Alex Sperling
Rachelle Lefèvre as Laura
Tom Arnold as Himself
Robert Davi as Himelf
……..etc