YSL Le Teint Touche Eclat Foundation is a new foundation from YSL and ready for my makeup review. This foundation was inspired by YSL's Touche Eclate Illuminating pen. The world famous pen that most women have in their purse to conceal and highlight their face. Even I have and use it! The foundation is described as being weightless and will give your face an illuminating finish while evening out your complexion and concealing your flaws. The foundation comes in 22 shades in BR (pink undertones), BD (golden undertones) and B (neutral undertones). I got the shade B20 it's a bit lighter than my skin shade but it is my neutral undertone.
YSL Le Teint Touche Eclat Foundation Makeup Review
I got the foundation when I attended the YSL celebrating 20 years party in Croatia. The thing about this foundation, unlike with other foundations, is that this foundation contains YSL soft focus gel, while other foundations contain translucent powder which gives an ashy effect. YSL Le Teint Touche Eclat Foundation contains liquid reflecting particles while other foundations contain powder. Now let's start the makeup review. I have oily – combination skin that is acne prone and is around NW20/25. I have scarring and acne red spots (dark and light) visible on the skin so I need a foundation with a dewy finish but that also offers decent coverage. Shade B20 was around 2 shades to light.
YSL Le Teint Touche Eclat Foundation Pros & Cons
I prefer long lasting foundations that don't require retouching. Makeup review – YSL Le Teint Touche Eclat Foundation is soft and in my own opinion it reminded me of a moisturizer or tinted cream / foundation but honestly more like a light gel-liquid foundation something like my Bourjois healthy mix foundation but lighter texture. Due to it's texture it blends extremely well and offers light coverage and neutralizes minor redness. The foundation gives my face a fresh and luminous finish. I feel like I put a liquid illuminator in my foundation. The foundation feels moisturizing and in my opinion is ideal for normal to dry and even extra dry skin. It really makes your skin look alive. This foundation is not for oily or combination skin since all that shine might give you a weird overly shiny effect. The biggest downside (for me personally) is that the foundation is not long lasting, about 4 – 5 hours. It's ideal for people that love tinted moisturizers, bb cream, cc creams and sheer – very sheer foundations.
YSL Le Teint Touche Eclat Foundation Conclusion
Yves Saint Laurent Le Teint Touche Eclat Foundation, has an overall 3.9/5 rating on makeupalley (108 reviewers) and I find this rating to be fair. Overall, this foundation is not for my skin type, but having written that, if I wanted to just quickly even out my skin instead of using a BB or CC cream. The foundation is build-able what is great for people that want medium coverage. The YSL Le Teint Touche Eclat Foundation is a light coverage foundation that is similar more to a CC cream than a BB cream and is lighter than a tinted foundation. It gives the skin a healthy and dewy finish what is ideal for maturing and dry skin. Now it's time to complete this makeup review of YSL Le Teint Touche Eclat Foundation.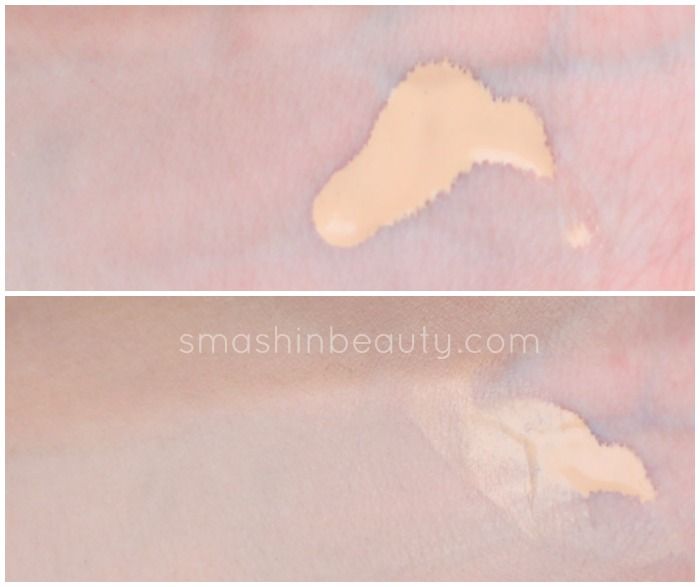 Pros:
Moisturizing
For very dry – normal skin & ageing skin
Light, airy texture
Blends with ease
Buildable coverage (sheer – medium)
Dewy &  luminous finish no oily or shiny effect
Looks very natural on the skin
Practical packaging
pump dispenser
when the foundation wears out it does not go patchy
neutralizes minor redness
Cons:
Short lasting power (after 4 hours starts fading noticeably)
Not suited for oily, combination or acne skin
does not cover acne or scars well