Helena Rubinstein: Lash Queen Celebration Mascara
Helena Rubinstein has been around since 1902. Since those earlier ages they have managed to succefully combine their passion, dedication and science. The founder and creator, Helena Rubinstein, always saw the importance and strongly believed that science and beauty go hand in hand.
Helena Rubinstein: Lash Queen Celebration Mascara for 110 years
This year, 2012, Helena Rubinstein is celebrating 110 years of beauty. Since the eyes are the key to your soul, Helena Rubinstein invented her first waterproof mascara in 1939, then in 1958 the first tube mascara. Helena Rubinstein has always been an inventor. Helena Rubinstein wanted to give all women a power, which you can gain with just one blink. Seductive eyes a powerful gift that is why mascara is important. With just one blink you can "rule the world".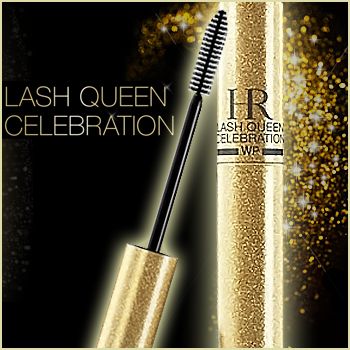 Helena Rubinstein Celebrates 110 year with Lash Queen Celebration Mascara
Helena Rubinstein wanted to express her creativeness with her passion towards jewelry and gold with Lash Queen Celebrations mascara. Lash Queen Celebration mascara is jewelry for eyes. The mascara comes in a beautiful golden tube and a new soft bristles brush that separates and redefines your lashes. The new formula doesn't leave big piles of mascara on your lashes but rather a nice soft texture. The Lash Queen Celebration mascara builds volume and gives length. The mascara contains a very subtle amount of real gold and pearl reflective particles (ophthalmologic approved) to give you that beautiful 1 million dollar blink.