Build your makeup kit part 4
You might have read my Build you makeup kit series 1, 2, 3 and now I decided to update this series with a new episode. I am not regular with these episodes as I want to but i do plan to try to be at least until summer time. The newest edition to my Build your makeup kit series is makeup accessories. As a makeup artist you will need to fill your kit with disposable accessories. There are many disposables and accessories that you can carry in your kit but the few I'm going to mention are the main ones. This of course depends on what if you are an actual makeup artist or just makeup lover.
Build your makeup kit part 4: makeup accessories
Sponges
Sponges can be latex or latex free. Even a beauty blender is considered to be a sponge but most makeup artist doesn't define it as a sponge. Besides that you can use a makeup sponge for many reasons such as to apply your foundation or blend your foundation. This is not a must have for a personal kit but might come in handy for a professional.
Blotting paper
I think blotting papers are a must have in your personal makeup kit and in a professional kit. With us oilier skin types we always need to blot to stay matte.
Sharpener
A sharpener is a must have in any kit. I mean you need to sterilize your eyeliners in between application.
Small scissors
Small scissors come in very handy for multiple reasons. You never know when you will need to cut something for example lashes.
Mixing palette
They come in all sizes and are more intended for professional use than personal. I usually use it when mixing my foundations or concealers.
Metal spatula
This is a must have in everyone's kit. Not only is it hygienic but also how else are you going to remove makeup from pots? With your fingers?  Nope. This is a must have! Keep your makeup germ free.
Brush cleanser
In between makeup application you need a brush cleanser to keep your bristles clean and sterile. This is a must have for all makeup artist and makeup loves. Kill those germs and stay safe and hygienic. Most makeup artist buy or makeup their own brush cleanser formula. I reviewed the http://smashinbeauty.com/elf-beauty-product-review-daily-brush-cleaner/.
Big lash curler
Lash curlers are not a must have but are recommended since they make the job easier. I have an mainly use my ELF cosmetics automatic brush curler
Mini lash curler
Some makeup artist love this min lash curler and I'm jumping on the wagon too. This was designed to curler thos small hard to reach lashes such as on the outer or inner rims of the eyes.

Lash glue
There are so many lash glues out there that it's hard to keep up. Every artist and person has their own preference with what brand they like. I wrote an article about my personal top and worst lash glues I have tried and which ones are a staple in my kit.
Tweezers
Even though plucking lashes hurt like a hell. You need them in your kit. Not only for plucking but I can't apply fake lashes without them.
Mini mirror compact
This really isn't must have for a professional, but is a must have for a personal makeup kit. You'll need to apply your lipstick, foundation, blush or other makeup products and a mini mirror will come in handy while not taking up much space.
Powder puff
I am a big fan of applying foundation with a powder puff. If you use cream foundation then this is a must have in your kit to make that foundation stay in place. It's a staple in my kit.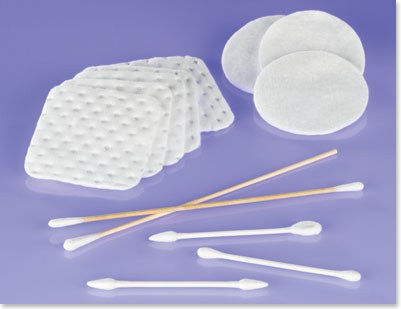 Cotton Pads and Q-tips
These are also a must have in everyone's makeup kits. Besides using them to remove makeup, you can use them to apply makeup.
Disposables
Disposable mascara wands and lip brushes or doe foots are a must have in all makeup artist kits. Keep your clients safe and hygienic to avoid contamination and the risk of an infection. Never let anyone use your mascara, ever! Your mascara wand is only for your eyes. Sharing it with someone exposes you to an eye infection, which can be very serious.
Next time we talk about makeup brushes.